The Crystal Aire is Brian Head's newest and best yet subdivision. There is only 1 lot left out of the 23 original lots and it is perched well above the town, right next to the national forest and the Cedar Breaks National Monument. They are mostly wooded and have terrific views. There is a viewpoint less than 100 yards through the national forest that lets you peer right down into the Cedar Breaks National Monument.

The subdivision is complete with water, sewer, gas, power and phone in front of every lot. The streets are beautifully paved and the project is really breathtaking.

Crystal Aire is zoned R-3 for multi-family development. Lots may be combined for larger developments. There are plat restrictions (See "Capacity" on Price List) on the maximum number of units that will be permitted on each lot.

For more information contact:
Carrie Dever (435) 590-3262
Crystal Aire Lot Square Footage Worksheet - Lot Price List
| | | | |
| --- | --- | --- | --- |
| Lot # | Capacity | Size | Price |
| 1 | 10 | 1.17 | SOLD |
| 2 | 10 | 0.85 | SOLD |
| 3 | 10 | 0.97 | SOLD |
| 4 | 14 | 1.67 | SOLD |
| 5 | 4 | 0.50 | SOLD |
| 6 | 6 | 0.82 | SOLD |
| 7 | 3 | 0.63 | SOLD |
| 8 | 6 | 1.33 | SOLD |
| 9 | 3 | 0.77 | SOLD |
| 10 | 3 | 0.64 | SOLD |
| 11 | 4 | 0.50 | SOLD |
| 12 | 6 | 0.53 | SOLD |

| | | | |
| --- | --- | --- | --- |
| Lot # | Capacity | Size | Price |
| 13 | 8 | 0.55 | SOLD |
| 14 | 6 | 0.51 | SOLD |
| 15 | 6 | 0.52 | SOLD |
| 16 | 8 | 0.51 | SOLD |
| 17 | 6 | 0.52 | SOLD |
| 18 | 8 | 0.52 | SOLD |
| 19 | 4 | 0.52 | SOLD |
| 20 | 10 | 0.52 | SOLD |
| 21 | 12 | 1.70 | SOLD |
| 22 | 24 | 4.34 | SOLD |
| 23 | 28 | 3.66 | $625,000 |
Crystal Aire Subdivision
has commanding and magnificient views of Brian Head Peak and Beyond the town of Brian Head. It is comprised of 31 acres zoned R3 that have been divided into 23 separate lots. The number of units allowed per lot varies; however, the maximum number of units that can be built is 200.
Located at the south end of Brian Head town and on the southwest side of Highway 143, it has 1,800 feet of highway frontage. It is approximately 100 yards of walking distance to the rim of Cedar Breaks Monument. Bordered on three sides by National Forest, alnog with phenomenal views, it is the most desirable location on the mountain. Zion View Drive meanders through the subdivision.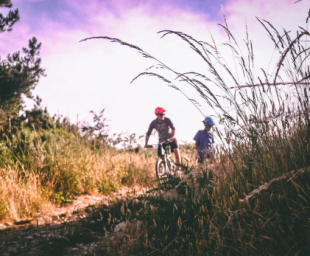 With the roads finished, streetlights installed, and utilities available to each lot (electric, gas, cable, phone, water, and sewer) the subdivision is ready for building mult-family homes such as town homes, condominiums, duplex or single-family homes. Whether building a luxurious home, a family compound of two, four, or six units, a 26-unit condominium project or building the whole two hundred units as a year-round mountain-destination resort, one could not find more incredible sites in the mountains of Brian Head, Utah.
Cedar Breaks National Monument is located next to the Brian Head Crystal Aire Subdivision. Travelers often opt to stay in Brian Head on their way from Bryce National Park to Zion National Park. Having a home in Crystal Aire, right next to Cedar Breaks Monument could be a year-round spectacular dream come true, or just a wonderful sunny getaway.
The formations in Cedar Breaks consist of ridges, pinnacles, and buttresses carved from the steep cliffs by wind and water erosion over more than 30 million years. One is also treated to spectacular views of dense forests of sub-alpine fir, Engleman Spruce, and quaking Aspens plus fields containing more than 150 species of gorgeous wildflowers. Bristlecone Pine, one of nature's oldest living trees, grows along the rim of the amphitheater and can be seen in abundance throughout the area.
A six-mile scenic drive leads past four overlooks; each offering a different perspective of the amphitheater. A log cabin constructed by the Civillian Conservation Corps in 1937 still serves as the visitor's center
For those who want to get off the beaten path, there are two hiking trails near the rim that provide an added appreciation of the geology and flora and fauna of Cedar Breaks. The Spectra Point/Ramparts Overlook Trail is a four-mile,round-trip hike along the rim with spectacular views of the amphitheater. The Alpine Pond Nature Trail is a self-guided, double-loop trail through forests and meadows. The lower portion offers excellent views of the Breaks. No other town in Utah's red rock country is fortunate enough to have a national treasure literally in its backyard. Combined with the world-class mountain skiing, snowboarding, and biking, plus an abundance of other activities, which include fishing, off-road touring, climbing, snowmobiling, and the Utah Shakespearean Festival, visitors will never run out of adventure during their visits to Brian Head.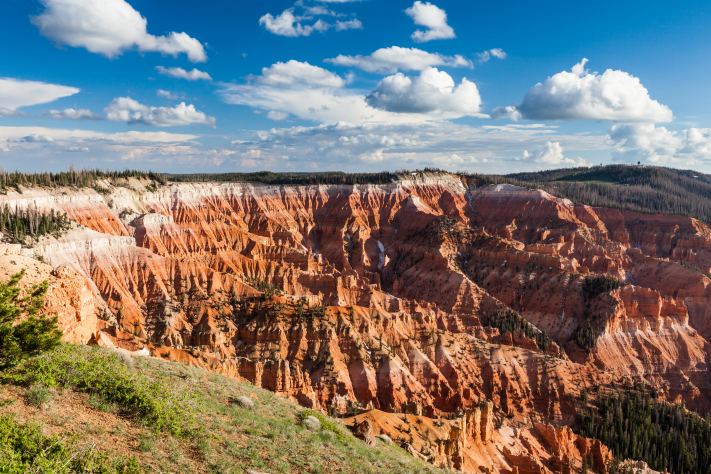 Brian Head Resort
Brian Head Resort is a premier alpine destination in the southwestern United States. It is a full-service resort conveniently located in southern Utah - three hours north of Las Vegas, Nevada, and four hours south of Salt Lake City, Utah. Brian Head is Utah's highest-elevation resort, receiving over 400 annual inches of light Utah powder. The resort has over 50 runs for all ability levels, as well as an entire mountain dedicated to beginners and children. It featuresfour terrain parks for varying ability levels, with more than 30 snow features including levels, with more than 30 snow features including rails, fun boxes, and a half-pipe (open when conditions permit). There is a winter sports school (which has taught tens of thousands of guests to ski and snowboard) and wide-ranging lodging and dining options in the area.
The resort's lift-served, snow-tubing park is the best in the region, with six lanes to choose from. It's like a giant frozen water slide.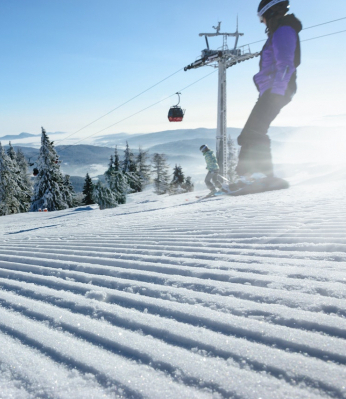 The resort is located off interstate I-15, adjacent to Utah's famous national parks. Its location helps foster a uniquely laid-back, uncrowded atmosphere, which is seldom found at winter resorts. The resort has a 650 skiable acres, which include three mountains: Giant Steps, Navajo, and Brian Head Peak. Giant Steps and Navajo are conveniently connected via the free Town Interconnect Shuttle System. Brian Head Peak is accessible via the Peak Express Snow Cat Service. It is open from 9:30 am to 4:30 pm. Utah is famous for its snowa nd boasts over 400 inches of powder every season. A renowned and affordable Kids Camp for children agest 3-12 and a licensed day care for infants six weeks up allow parents a care-free time on the slopes.
Year-Round at Brian Head
Brian Head is the southwest Utah's premier mountain biking area, referred to by Outdoor Action Magazine as "Downhill of the Gods". Located at 10,000 feet, Brian Head has over 100 miles of downhill, single-track, and an additional 100 miles of cross-country trails. Brian Head Resort features Utah's largest mountain bike park with 5,000-foot descents and pro-designed freestyle elements. Many of Brian Head's trails are accessed by a pre-arranged shuttle or by the ski chairlift on the weekends. Brian Head town features three, full-serice bike shops, with rentals, gear, maps, and shutles to many of the trail heads. Nearby Cedar City has three bike shops to serve both mountain bike and road cycling enthusiasts.
Fishing is the best stress management in the world. Panguitch Lake (meaning "Big Lake") and Navajo Lake are a short drive away; both popular fishing lakes with Rainbow, Brook, Cutthroat, and Brown Trout.
Deer and elk can usually be seen in the early morning hours or late afternoon. In the winter ice fishing is great!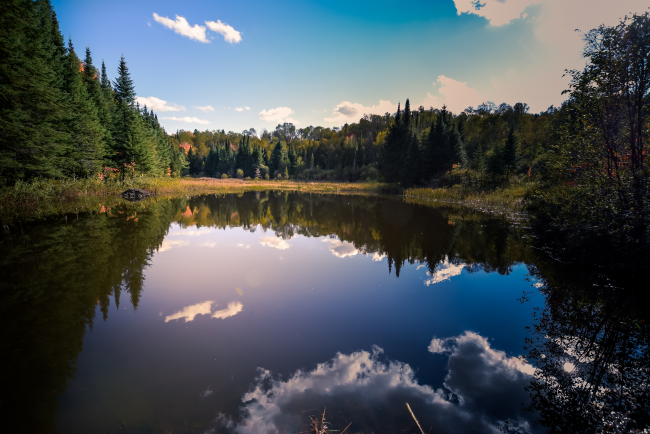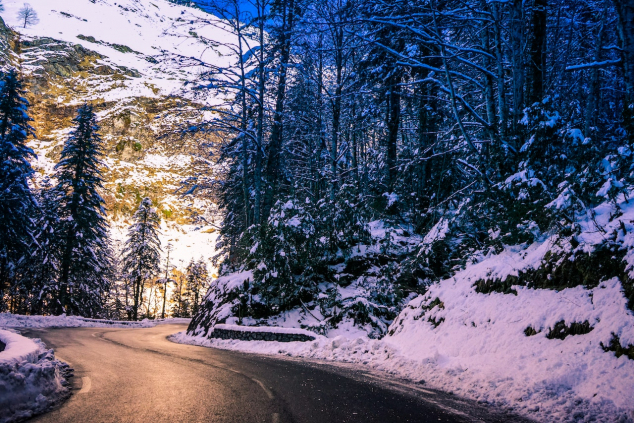 Crystal Aire Subdivision
This subdivision consists of 23 various-sized lots, all zoned R3.
A total of up to 200 units can be a built on the subdivision.
The 200 units have been proportioned to the 23 lots based on view, access, and terrain features.
The lots, priced extremely well, are an excellent value.
Road, street lighting, sewer, water, gas, electrical, telephone, and cable TV access to all lots has been completed.
The lots are the premium-view lots at the Brian Head Resorts. The subdivision is on a hill in the town of Brian Head surrounded on three sides by the U.S. Forest Services park land. The views from the lots are un-matched by an y other in the area. Cedar Breaks National Monument is next to this subdivision, and Zion National Park is visible as well as the Brian Head Ski bowl area and Brian Head Mountain