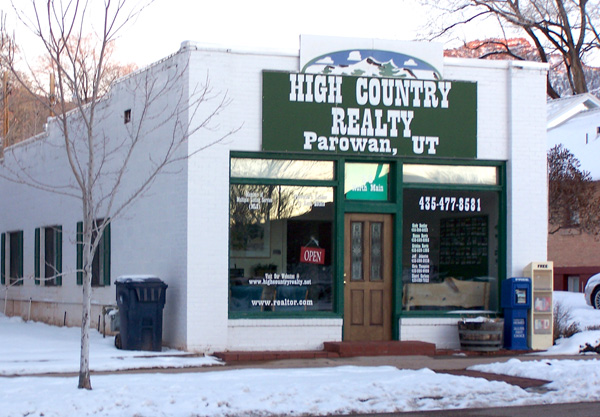 Parowan
High Country Realty
50 North Main Street
Parowan, UT 84761
P:
(435) 477-8581
Cindy Bentley:
cindybentleyhcr@gmail.com
435-590-5032
Dianna Harris:
charlesangels@netutah.com
435-559-8865
Jamie Bonnett:
jm_bonnett@yahoo.com
435-477-2075
Kristina Harris:
harrisfamily95@msn.com
435-559-1265
Looking for Parowan Utah Real Estate? Your search is over!
Welcome to the online home of High Country Realty, Parowan, Utah, where we guarantee nationwide service from a home-town office!
As Parowan Utah's leader in real estate sales, High Country Realty offers the highest level of service to both buyers and sellers. High Country Realty Parowan has been serving Parowan area residents for over 20 years and we take pride in providing friendly and professional assistance to everyone we work with! Whether you are looking to buy or sell real estate, we look forward to serving you! We guarantee that you will receive one-on-one expert real estate support from each of our sales agents who are ready to assist you. High Country Realty Parowan agents have extensive knowledge of the Parowan area and will guide you in your real estate transactions with friendly, honest, and personal service.
Parowan is located just minutes from Brian Head Ski Resort, home of world class skiing in the winter and bike riding during the summer months. Parowan is also located near some excellent fishing, hunting, camping, and other outdoor recreational areas. Other local sites include Cedar Breaks National Monument, Parowan Gap Petroglyphs, Bryce Canyon National Park, Zion Canyon National Park, Dixie National Forest, The Grand Canyon, and many other attractions. Just 10 minutes to the south is Cedar City, home of the Tony Award Winning Utah Shakespearean Festival and the Utah Summer Games.
Contact us today at 1-435-477-8581! Or, you may begin your online property search by clicking here.